Fasting Mimicking Diet is a system developed by Prof. Valter Longo and his team to ease the process of prolonged fasting (a period between 4-7 days) but still replicating the health benefits. The details of the program are described by Dr. Longo online and by the books published. There are also many other websites providing information so they will not be repeated here. Please be warned that it is not suitable for everyone (e.g. pregnant women, people over the age of 70, people with liver and kidney diseases, patients who take medication, etc.). Therefore please do your research and check with your doctor before starting Fasting Mimicking Diet.

There are several challenges with Fasting Mimicking Diet and one of them is to have a meal plan for five days that satisfies the very strict calorie and protein constraints. Thre are preset meal kits satisfying the criteria (e.g. ProLon kit) but they are pricy for many and may not be available where you live. There are also websites providing meal programs and you can use them if you find them satisfactory. But if you plan to repeat Fasting Mimicking Diet a few times every year and like to have more flexibility while making your meal plans you can prepare it from the list of foods presented below.
Dr. Sten Ekberg adapted Fasting Mimicking Diet to ketogenic diet (or Low Carb High Fat diet) principles to improve the health benefits. It is especially valuable for people already on the ketogenic diet and aims to benefit from Fasting Mimicking Diet.
You can find the details in his YouTube video. Even if you are not aiming for the ketogenic variation of the Fasting Mimicking Diet, you will still get lots of valuable information and clarification.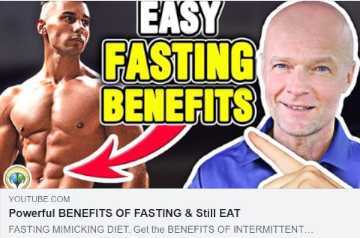 Celery, artichoke, mushrooms, courgette, cabbage, leeks, spinach, asparagus, broccoli, cauliflower, brussels sprouts, tomatoes, cucumber, peppers, watercress, lettuce are among the most suitable foods for your meal plan. If you follow Dr. Longo's program you can add berries like strawberries, cranberries, raspberries. If you follow Dr. Ekberg's program you can add olives, avocado, and a limited amount of berries. Add nuts like macadamia nuts, pecan nuts, and olive oil if you still have space for extra calories and protein. Please make sure to use a sensitive kitchen scale when preparing your meals.
You can create your personal daily meal plan from the list of foods you choose, that will satisfy the Fasting Mimicking Diet constraints, by following the below given steps. Few sample meal plans are also presented below to give you an idea. You can print them or load them as your base and then add, remove, manipulate it.